Wonton Tacos
Prep + Cook Time

45

Minutes

Servings

4
Where to Buy
Ingredients
1 package Spicy Asian Marinated Chicken Thighs
16 wonton wrappers
Asian-Style Slaw (recipe below)
1 bunch scallions, chopped
2 jalapenos, sliced
Pickled Onions (recipe below)
Queso Fresco, crumbled
Lime wedges, for garnish
Cilantro, for garnish
Sesame seeds, for garnish
Sriracha and/or Sweet Chili Sauce
For the Asian-Style Slaw
2 cups shredded red cabbage
1 cup shredded green cabbage
1 bunch scallions, chopped
1 carrot, shredded
3 tablespoons rice vinegar
2 tablespoons olive oil
1 tablespoon sesame oil
1 tablespoon brown sugar
Kosher Salt
For the Pickled Onions
1 medium red onion, peeled, halved, and sliced
1 cup warm water
½ cup apple cider vinegar
1 tablespoon granulated sugar
1 1/2 teaspoons Kosher salt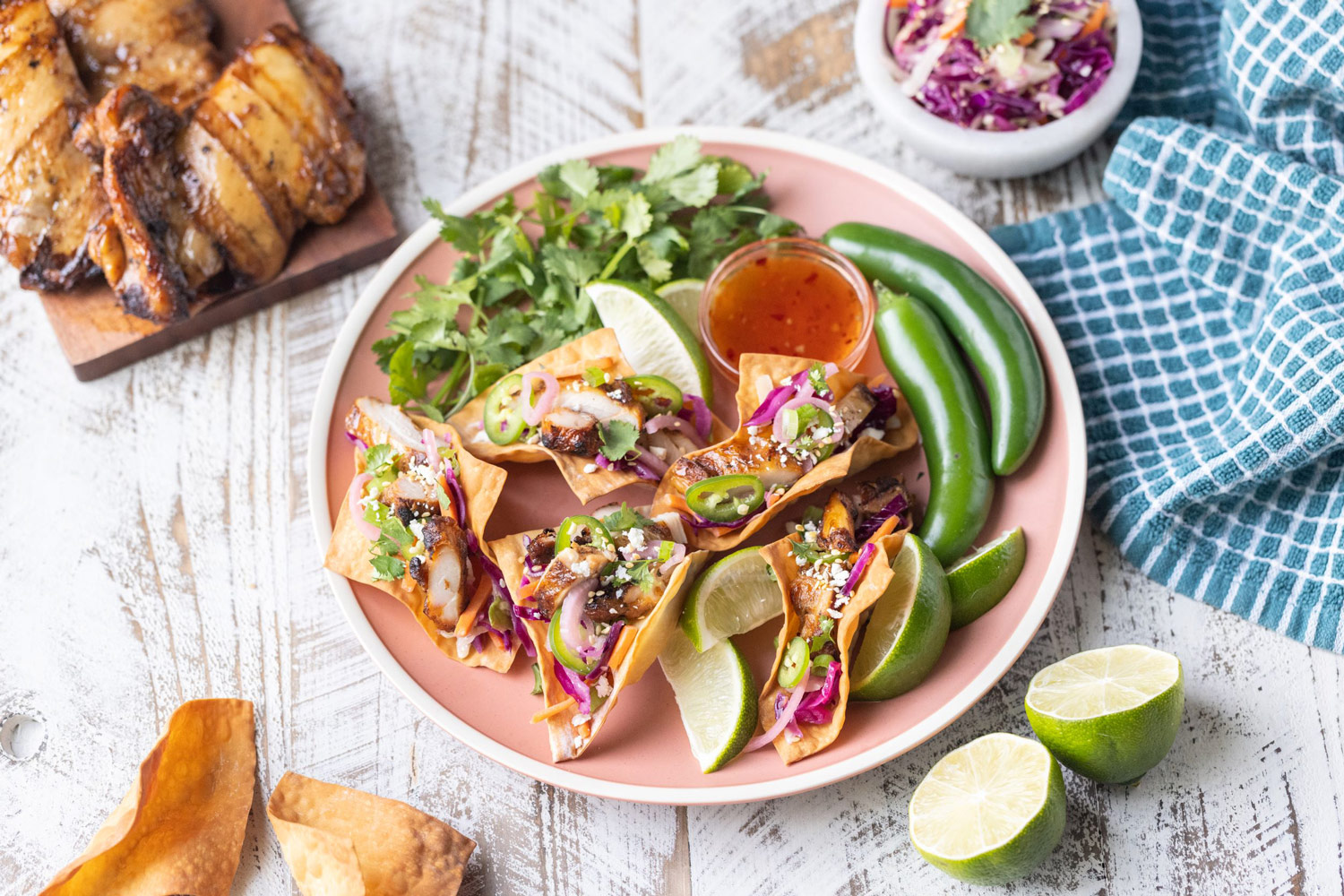 Preparation
Cook chicken thighs as desired (i.e. saute, bake, or grill) according to package directions and chop into bite-sized pieces.  Meanwhile, preheat the oven to 375°F.  Spray wonton wrappers lightly with cooking spray and form into taco shapes between the cups of inverted muffin tins (do in batches, as needed).  Bake for 4-6 minutes, or until golden brown, watching closely so they don't burn.
Fill wonton wrappers with slaw, chicken, scallions, jalapeno, pickled onions, cilantro, and sesame seeds.  Sprinkle lightly with queso fresco.  Serve with cilantro and sriracha or sweet chili sauce.

For the Asian-Style Slaw

Combine cabbage, scallions, and carrot in a medium mixing bowl. In a separate small mixing bowl, whisk together vinegar, oils, and brown sugar. Season generously with Kosher salt. Drizzle dressing into cabbage mixture and toss to combine. Let sit at least 30 minutes to allow flavors to meld.

For the Pickled Onions

Combine water, vinegar, sugar, and salt in a small bowl. Whisk together until sugar and salt is fully dissolved.  Add onions and fully submerge.  Cover and refrigerate for at least 1 day, although they will last for a few weeks.