Spicy Asian Chicken Rice Bun Sandwiches (Air Fryer)
Prep + Cook Time

30

Minutes

Servings

4
Where to Buy
Ingredients
4 Spicy Asian Marinated Chicken Thighs
2 cups sushi rice
3 cups of water
2 tablespoons vegetable oil
Avocado, sliced
Green leaf lettuce
Heirloom Tomato, sliced
Spicy Ranch (recipe below)
For the Spicy Ranch
¼ cup sour cream
¼ cup mayonnaise
2 tablespoons whole milk
2 tablespoons chopped parsley
½ tablespoon Frank's red hot sauce
½ tablespoon lime juice
¼ teaspoon onion powder
¼ teaspoon garlic powder
¼ teaspoon dried dill
Kosher salt
Black pepper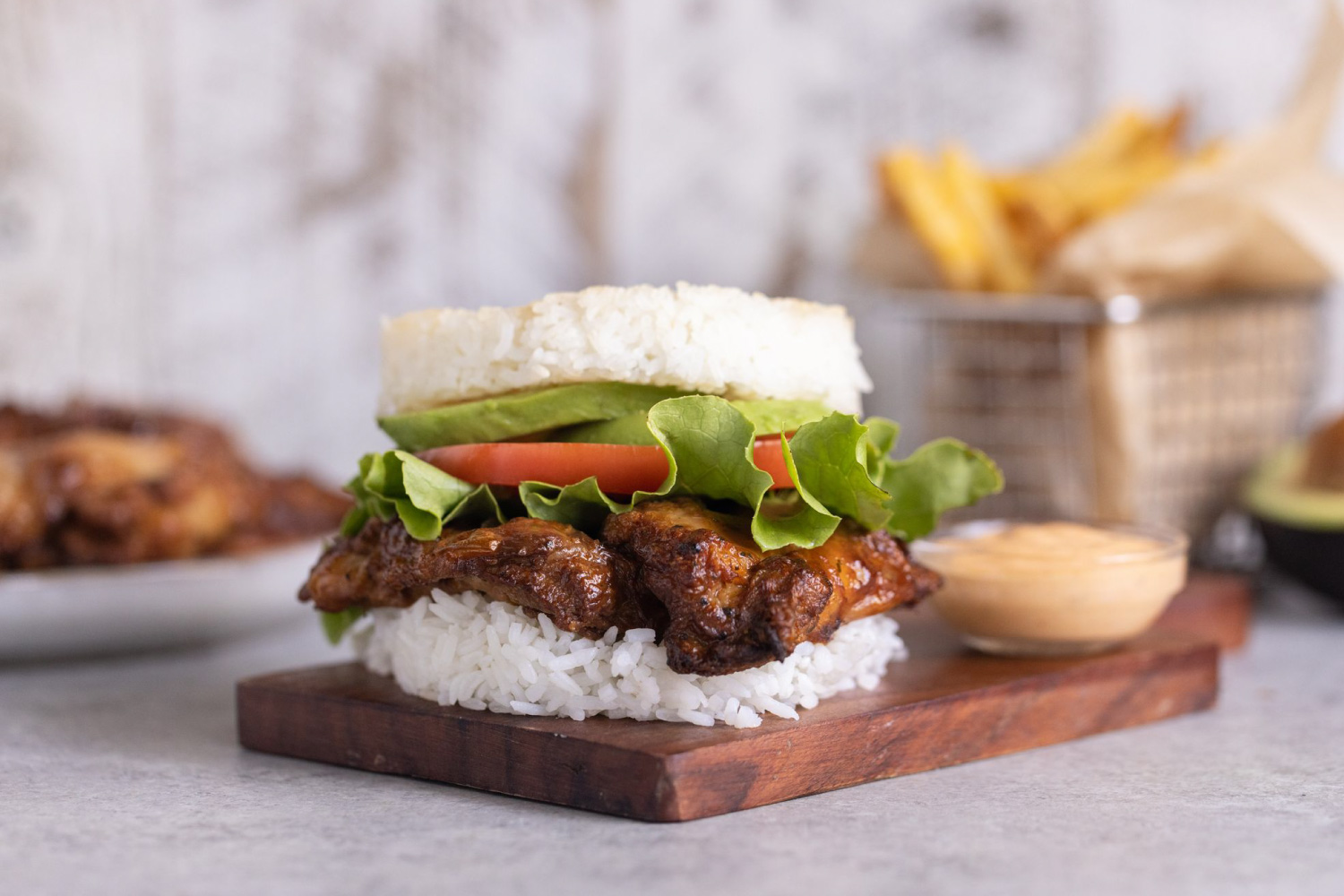 Preparation
Add rice and water to a saucepan and season with salt. Bring to a full boil and immediately reduce heat to low and cover, cooking for 15-20 minutes (depending on package directions).  Remove from heat and keep covered for 10 minutes.  Stir to fluff.
Transfer rice to a container and refrigerate until chilled. Form ½" rice patties using a large bun-sized round cookie cutter, pressing down on rice.
Heat a large non stick skillet over medium heat and oil. Carefully place rice patties in skillet and cook until light golden brown.  Carefully flip and repeat.
Meanwhile, preheat the air fryer to 400°F and spray inside with non-stick cooking spray. Place chicken thighs in the air fryer and set for 16 minutes, flipping the chicken half way through cooking.  Check the internal temperature of chicken and make sure it's reached 165°F.  Cook for additional time, if needed.
Place chicken, lettuce, tomato, avocado slices, and spicy ranch between two rice buns.
For the Spicy Ranch
Combine all ingredients, in a food processor and pulse until combined and there are flecks of parsley throughout. Season with salt and pepper.  Taste and add additional hot sauce if desired.