Spicy Asian Chicken Flatbread
Prep + Cook Time

25

Minutes

Servings

4
Where to Buy
Ingredients
1 package Spicy Asian Marinated Chicken Thighs
1 bunch scallions
1 red onion, sliced
1 tablespoon vegetable oil
1 (16 ounce) store bought* or homemade pizza dough
3 cups shredded mozzarella cheese
2 jalapeños, sliced
1 avocado, sliced
Sriracha Aioli (recipe below)
For the Sriracha Aioli
⅓ cup mayonnaise
¼ cup mayonnaise
1 ½ tablespoons sriracha
¼ teaspoon granulated garlic
¼ teaspoon salt
*check to see if your local pizzeria sells pizza dough!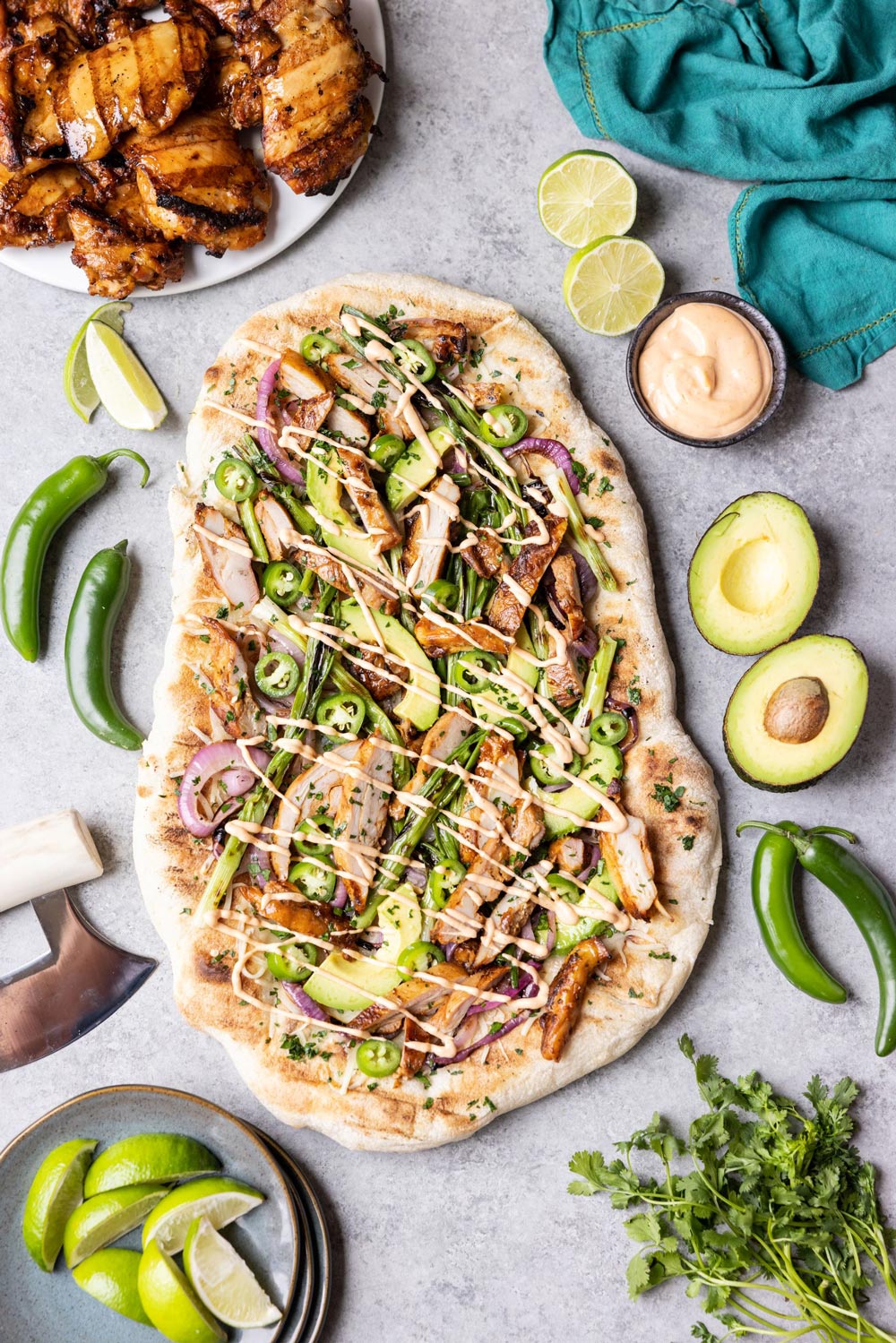 Preparation
Preheat the grill to medium-high heat.  Grill chicken, according to package directions, until just cooked through.  Remove from heat and slice.  Meanwhile, brush red onion slices and scallions with oil and season with Kosher salt.  Grill, flipping once, until slightly charred on each side.  The scallions will only take about 30 seconds per side, and red onion slices about 2-3 minutes per side.
Meanwhile, lightly sprinkle pizza dough with flour and stretch into a thin oval-ish shape.  Ensure the grill grates are clean and grill pizza dough for about 2-3 minutes, until grill marks appear and the dough easily releases from the grill.  Use tongs to flip the dough over, sprinkle mozzarella cheese all over the top, and cook for another 2-3 minutes.  Carefully remove from the grill.
Top grilled flatbread with sliced chicken thighs, grilled scallions and red onions, jalapeno, and avocado.  Drizzle with sriracha aioli and slice.

For the Sriracha Aioli

Combine all ingredients in a small bowl. Allow flavors to meld for at least 10 minutes, and then taste and adjust seasonings as desired.