Southern Flavored Chicken Wings
Prep + Cook Time

1.5

Hours

Servings

4-6
Where to Buy
Ingredients
1⁄2 pack (2 lbs.) George's Farmers Market Chicken Wings
2 cups pickle juice
1 pack Hawaiian-style rolls (or 2 1⁄2 cups bread crumbs)
1⁄4 cup corn starch
2 eggs
Honey-Mustard Dipping Sauce
1/3 cup yellow mustard
1/3 cup honey
1⁄2 teaspoon black pepper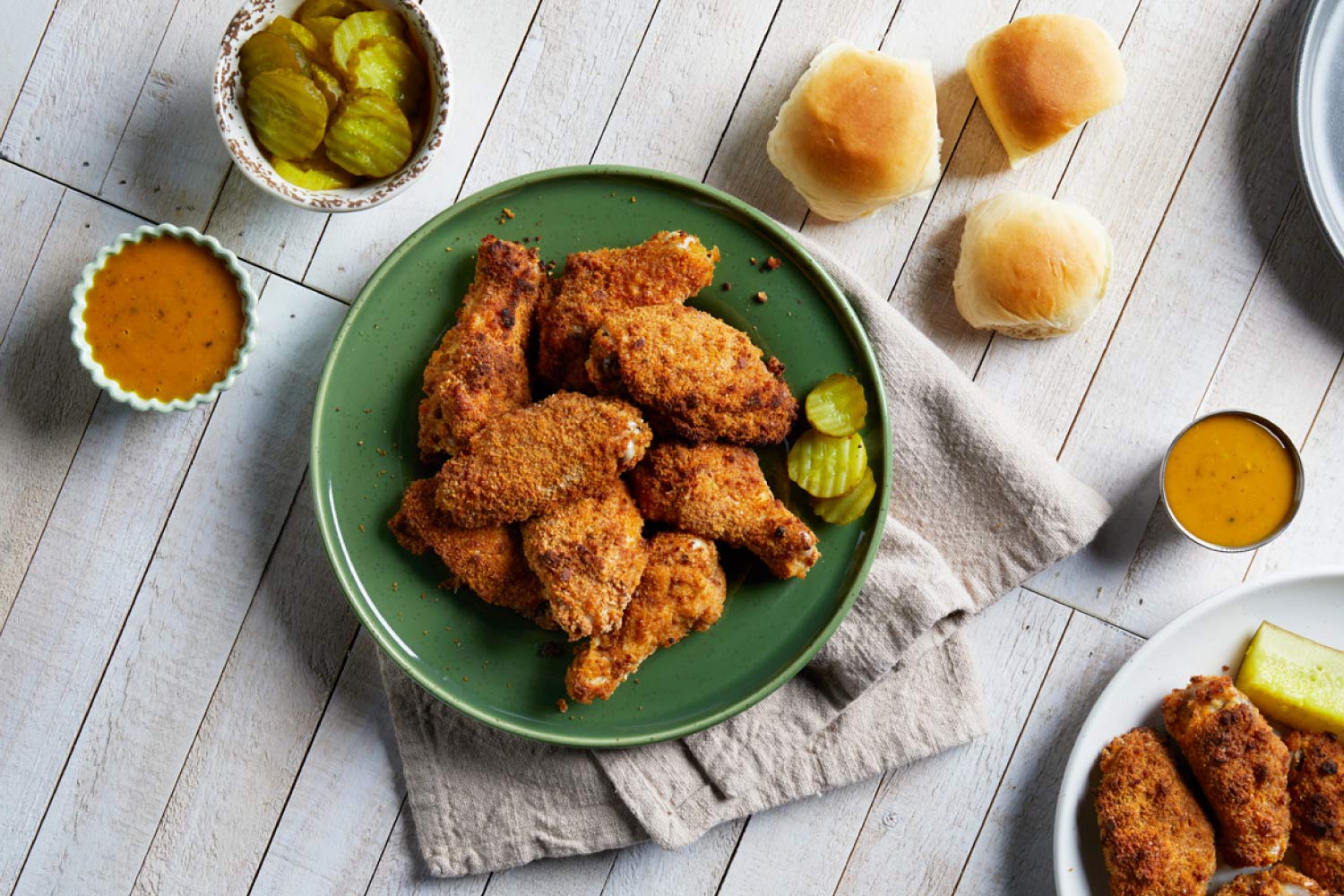 Preparation
Preheat oven at 300°F.
Remove the chicken wings from the package and place into a large storage bag. Pour in the pickle juice and refrigerate, letting marinade for 30 minutes to one hour.
While the chicken is marinating, slice the rolls in half and place on a baking sheet pan. Toast in the oven for 50 minutes. Cut up the rolls into smaller pieces and pulse in a food processor or blender until the rolls are crumbs. Combine the breadcrumbs and corn starch in a large bowl.
Whisk the eggs in a large bowl.
Remove the chicken wings from the marinade and dredge in the eggs, then coat with the breadcrumbs and place on a lined baking sheet pan with rack. Raise the temperature of the oven to 425°F.
Cook the chicken wings in the oven for 30 minutes or until golden brown and cooked to 165°F.
While the wings are cooking, combine the ingredients for the dipping sauce in a mixing bowl and refrigerate until use. Or serve with your favorite honey-mustard dipping sauce.