Smoked Chicken
Prep + Cook Time

2 1/2

Hours

Servings

4
Where to Buy
Ingredients
1 Georges Farmer Market Whole Chicken
2 tablespoons garlic herb seasoning
½ cup unsalted butter, softened
1 cup halved Brussels sprouts
1 (8.5 oz) bag instant rice
½ cup + 2 tablespoons olive oil
2 (.7 oz) packets dry Italian dressing, divided
¼ cup red wine vinegar
Hickory wood chips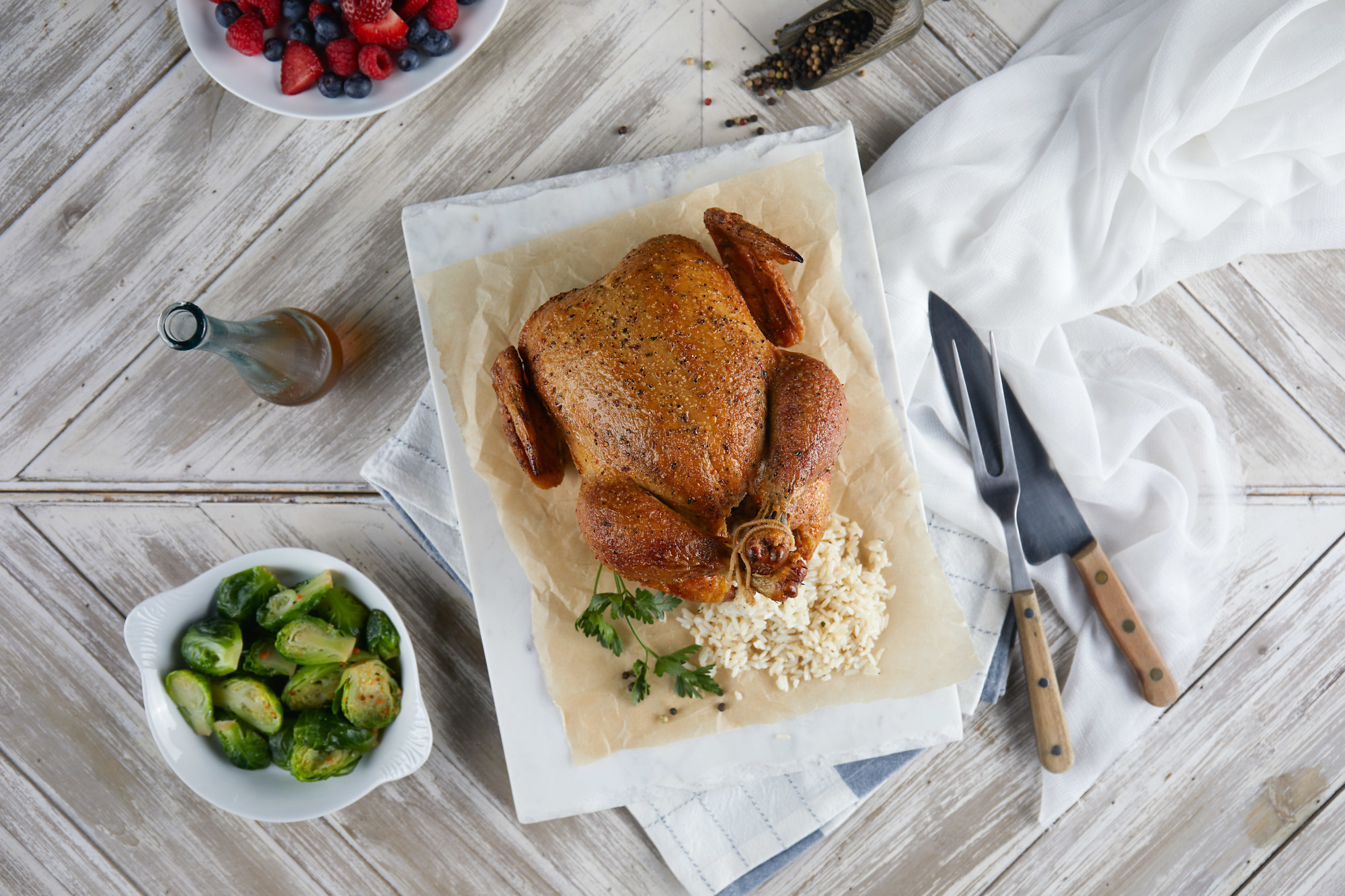 Preparation
Heat an outdoor grill on high heat.
Soak a handful of wood chips in water for 15 minutes. Use the wood chips in a smoker box, may have to refill through the cooking time. Place the box on top of the grill burner (not grates). Keep that burner on high and reduce the other burners to low.
Combine the seasoning and butter in a mixing bowl. Carefully loosen the skin from the meat. Divide the butter mixture and place under the skin over the whole chicken.
Heat water in a medium sauce pot. Cook the Brussels sprouts in boiling water until tender, about 5-10 minutes. Drain and toss with the rice, olive oil, and one Italian dressing packet. Place the rice mixture in the center of a large square of cheesecloth, tie with butcher string, set aside.
Check inside the chicken to ensure the inside it is empty. Stretch out the cavity as best that you can and place the cheesecloth bag in the cavity. Truss the chicken by tying butcher string around the drumsticks and pass the string over the wings and tie the string together and the neck.
Place on the grill and smoke for 2 hours, or until the chicken is cook throughout. Maintain the grill temperature around 300º
Combine the remaining oil, dressing packet and vinegar together in a mixing bowl.
Serve the chicken by removing the cheesecloth and pour rice mixture in a serving bowl. Carve the chicken and place over the rice mixture. Serve with Italian vinaigrette.