Slow Cooker Thai Peanut Chicken Sandwiches
Prep + Cook Time

26

Minutes

Servings

4
Where to Buy
Ingredients
For the Chicken
4 boneless, skinless chicken breasts
3/4 cup canned coconut milk
1/2 cup creamy peanut butter
2 garlic cloves, minced
1 teaspoon minced ginger
3 tablespoons light brown sugar
2 tablespoons soy sauce
2 tablespoons rice vinegar
1 lime, juiced
For Serving
4 burger buns
Thai Peanut Sauce (recipe below)
Pickled Carrots (recipe below)
4 radishes, thinly sliced
1 cucumber, thinly sliced
1 avocado, sliced
Cilantro
For the Thai Peanut Sauce
1/4 cup creamy peanut butter
1/2 cup canned coconut milk
1 clove garlic
1 teaspoon minced ginger
1/2 tablespoon soy sauce
1 teaspoon rice vinegar
1 teaspoon sugar
1/2 lime, juiced
For the Pickled Carrots
2 carrots, peeled
¼ cup warm water
¼ cup apple cider vinegar
1 tablespoon granulated sugar
¾ teaspoon Kosher salt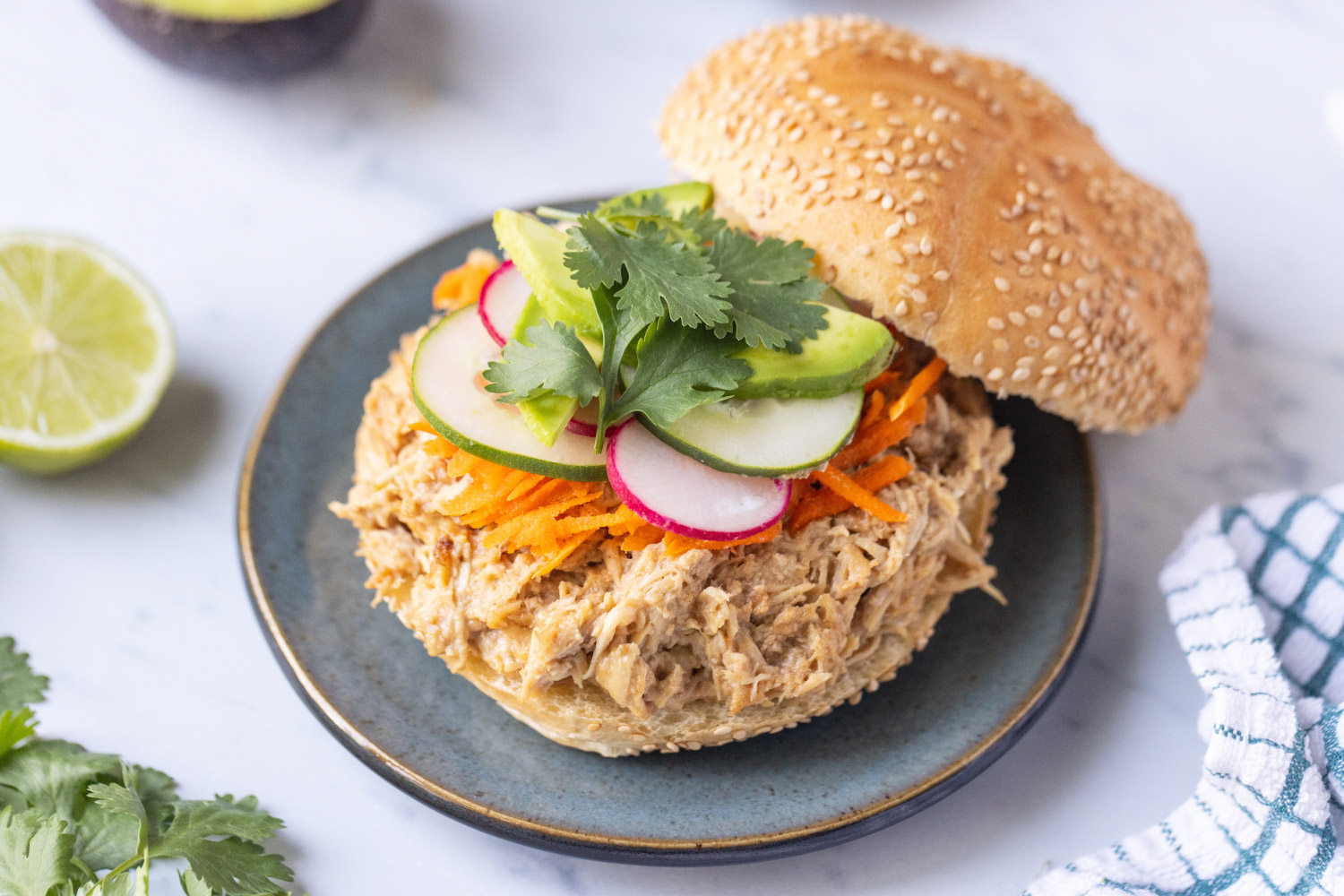 Preparation
Spray slow cooker with nonstick cooking spray. Place chicken in the bottom of slow cooker.  In a medium mixing bowl, combine coconut milk, peanut butter, garlic, ginger, brown sugar, soy sauce, rice vinegar, and lime juice.  Pour sauce over chicken.  Cover and cook on low for 6 to 8 hours.
Shred chicken using two forks and stir to combine. Top each bun with shredded chicken, Thai peanut sauce, pickled carrots, cucumber, radish, avocado, and cilantro.

For the Thai Peanut Sauce

Blend all ingredients together in a blender until smooth. Add a little more coconut milk if a thinner consistency is desired.

 For the Pickled Carrots

Using the large side of a box grater, shred the carrots.
Combine water, vinegar, sugar, and salt in a small bowl and whisk until dissolved. Place shredded carrots in a bowl and fully submerge.  Cover and refrigerate for at least 1 day, although they will last for a few weeks.