Quick Spicy Asian Chicken Ramen (Air Fryer)
Prep + Cook Time

30

Minutes

Servings

4
Where to Buy
Ingredients
4 Spicy Asian Marinated Chicken Thighs
4 soft-boiled eggs, peeled and halved*
4 instant ramen, flavor packets discarded
8 cups chicken broth
2 cup water
1 2" knob ginger, cut into 8 slices
4 cloves garlic, peeled and smashed
2 tablespoons sambal oelek
2 tablespoons soy sauce
1 teaspoon sesame oil
1/2 teaspoon rice vinegar
1 bunch scallions, thinly sliced
Cilantro, for garnish
* Cook eggs in a pot of boiling water over medium-high heat.  Carefully lower eggs into water and cook for precisely 6 ½ minutes, adjusting heat to maintain a gentle boil.  Transfer eggs to a bowl of ice water and chill until just slightly warm.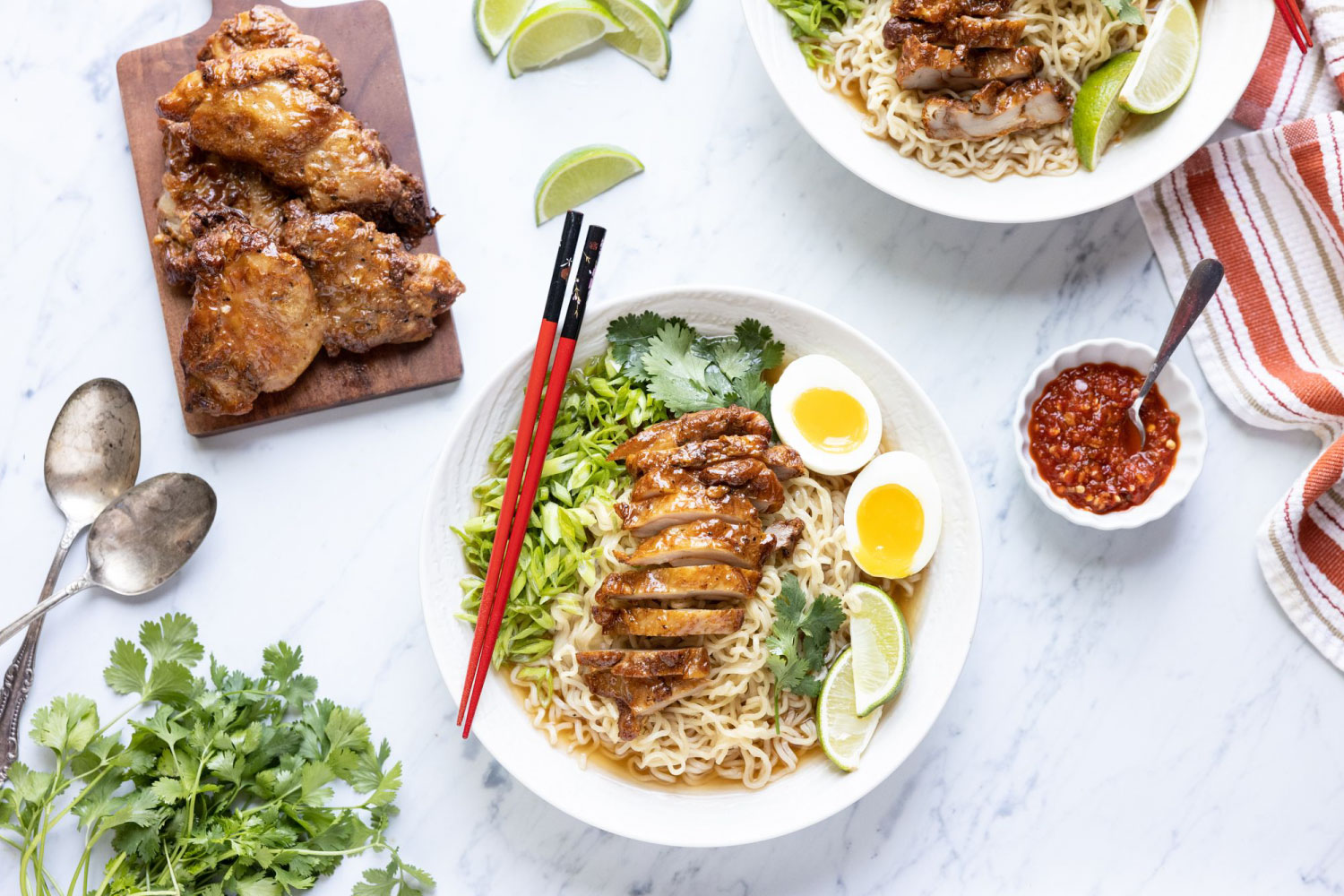 Preparation
Preheat the air fryer to 400°F and spray inside with non-stick cooking spray. Place chicken thighs in the air fryer and set for 16 minutes, flipping the chicken half way through cooking.  Check the internal temperature of chicken and make sure it's reached 165°F.  Cook for additional time, if needed.
Meanwhile, place broth, water, ginger, garlic, sambal oelek, soy sauce, sesame oil, and rice vinegar in a large pot. Bring to a boil then reduce to a simmer for 15 minutes.  Remove garlic + ginger.
Cook instant ramen noodles in a pot of boiling water until just cooked through, about 2 minutes.
Divide ramen noodles between bowls and ladle broth over noodles. Place scallions, eggs, and cilantro in each bowl.