One Pan Salsa Chicken
Prep + Cook Time

35

Minutes

Servings

4
Where to Buy
Ingredients
** This recipe makes a double batch of Salsa Chicken so you have leftovers for Salsa Chicken Tacos with Corn Poblano Salsa.  If making this double meal, it is suggested to also make the pickled onions today so they are ready for the tacos tomorrow!
8 Skinless Boneless Chicken Breasts
1 packet of mild taco seasoning mix
2 1/2 cups chunky salsa
2 cup shredded cheddar cheese
1 avocado, chopped
1 jalapeno, sliced
Sour Cream
Cilantro
Lime Wedges
Quick and Easy Spanish Rice (recipe below)
For the Quick and Easy Spanish Rice
2 tablespoons olive oil
1/2 small onion, chopped
1 1/2 cups uncooked white rice
2 cups low-sodium chicken broth
1 cup chunky mild salsa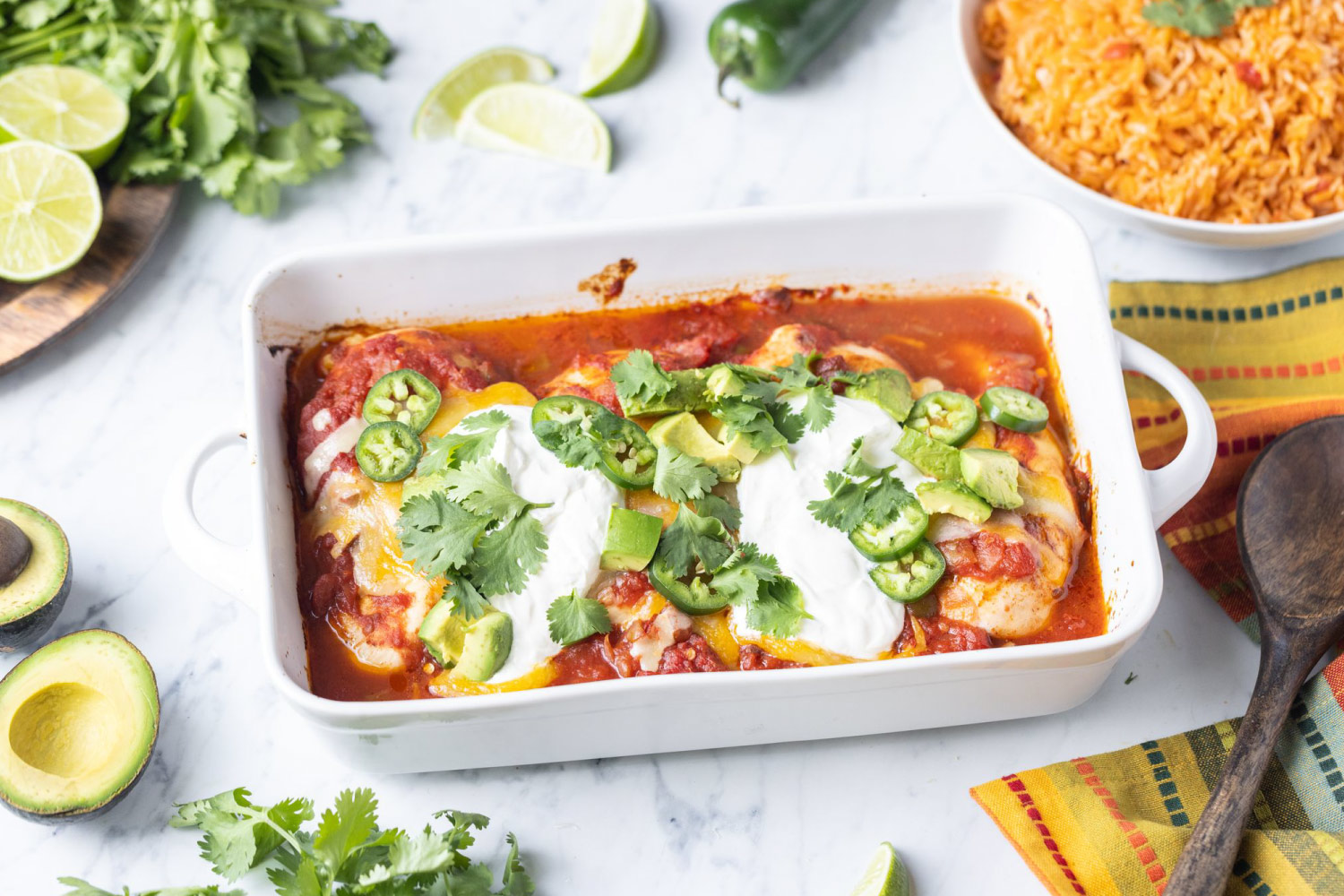 Preparation
Preheat the oven to 400°F and coat a 9×13 baking dish with nonstick cooking spray. Place chicken breasts in dish and sprinkle with taco seasoning.  Pour salsa on top.
Bake chicken until just cooked through and the internal temperature reaches 165°F, about 20-25. Sprinkle top with cheese and bake until cheese is melted.
To serve, top salsa chicken with sour cream, avocado, and jalapeno. Garnish with cilantro and lime wedges.  Serve with the Quick and Easy Spanish Rice.

For the Quick and Easy Spanish Rice

Heat oil in a large skillet over medium heat. Add onion and cook, stirring occasionally, about 4-6 minutes.  Mix in rice, stirring often.  Once rice begins to brown, stir in chicken broth and salsa.  Reduce heat to maintain a simmer and cover, cooking for about 20 minutes or until liquid has been absorbed.  Remove from heat and let rest covered for 5 minutes.  Fluff with a fork.