Korean Inspired Nashville Hot Chicken Sandwiches
Prep + Cook Time

45

Minutes

Servings

4
Where to Buy
Ingredients
4 buns
1 package Spicy Asian Marinated Chicken Thighs
1/2 cup all purpose flour
1/2 cup cornstarch
1/3 cup fine cornmeal
1 teaspoon
Canola or Vegetable oil, for frying
Korean Chili Paste (recipe below)
Kimchi, chopped
Gochujang Aioli
For the Korean Chili Paste
4 tablespoons gochugaru
2 1/2 tablespoons brown sugar
2 teaspoons ancho chile powder
2 teaspoons granulated garlic
1 teaspoon paprika
1/2 teaspoon white wine vinegar
¼ teaspoon salt
½ cup canola or vegetable oil
For the Gochujang Aioli
⅓ cup mayonnaise
¼ cup mayonnaise
1 ½ tablespoons gochujang
¼ teaspoon granulated garlic
¼ teaspoon salt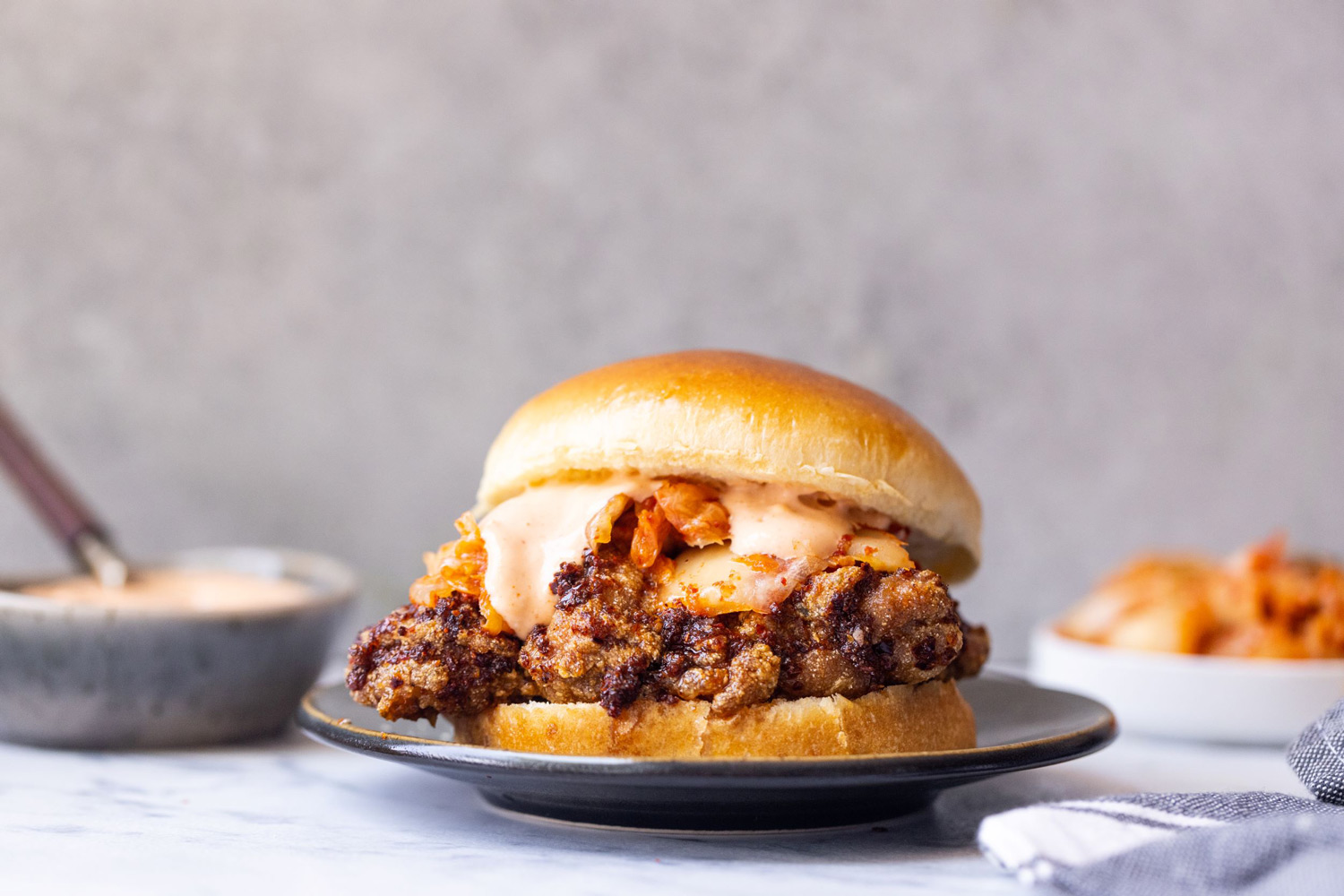 Preparation
Working one at a time, place chicken thighs on a cutting board and top with a piece of plastic wrap.  Using a heavy skillet, pound chicken to a uniform ½" thickness.
Combine flour, cornstarch, cornmeal, and 1 teaspoon of salt in a bowl.  Dredge chicken in flour mixture, making sure each piece of chicken is well coated.  Let chicken rest on a wire rack for 10 minutes.
Meanwhile, heat oil in a heavy bottom skillet or dutch oven to 330°F.  Fry chicken, in batches if necessary, until well browned on each side and chicken is just cooked through.  Place fried chicken on another wire rack to cool slightly, then rub Korean Chili Paste all over both sides of the fried chicken.
Place a piece of chicken on each bun and top with a little kimchi and gochujang aioli .

For the Korean Chili Paste

Combine all ingredients in a small mixing bowl and allow to rest for at least 60 minutes at room temperature before using.

 For the Gochujang Aioli

Combine all ingredients in a small bowl and allow flavors to meld for at least 10 minutes before serving. Can be refrigerated for up to one week.