Greek Chicken Souvlaki with Tomato-Cucumber Salad + Tzatziki
Prep + Cook Time

30

Minutes

Servings

4
Where to Buy
Ingredients
** This recipe makes a double batch of Chicken Souvlaki so you have leftovers for Greek Chicken Souvlaki Bowls.
8 boneless, skinless chicken breasts, cut into 1" cubes
1/2 cup fresh lemon juice
1/2 cup olive oil
3 cloves garlic, minced
2 teaspoons dried oregano
Kosher salt
Freshly ground black pepper
Tzatziki (recipe below)
Tomato-Cucumber Salad (recipe below)
For the Tzatziki
1 cup plain Greek yogurt
1/2 cucumber, peeled
1 lemon, juiced
1 clove garlic, minced
2 tablespoons finely chopped fresh mint
1/4 teaspoon dried oregano
Kosher Salt
For the Tomato-Cucumber Salad
2 cucumber, peeled and seeds removed, finely diced
4 plum tomatoes, seeds removed, finely diced
2 tablespoons olive oil
2 tablespoons fresh lemon juice
1/4 cup chopped fresh parsley
Kosher salt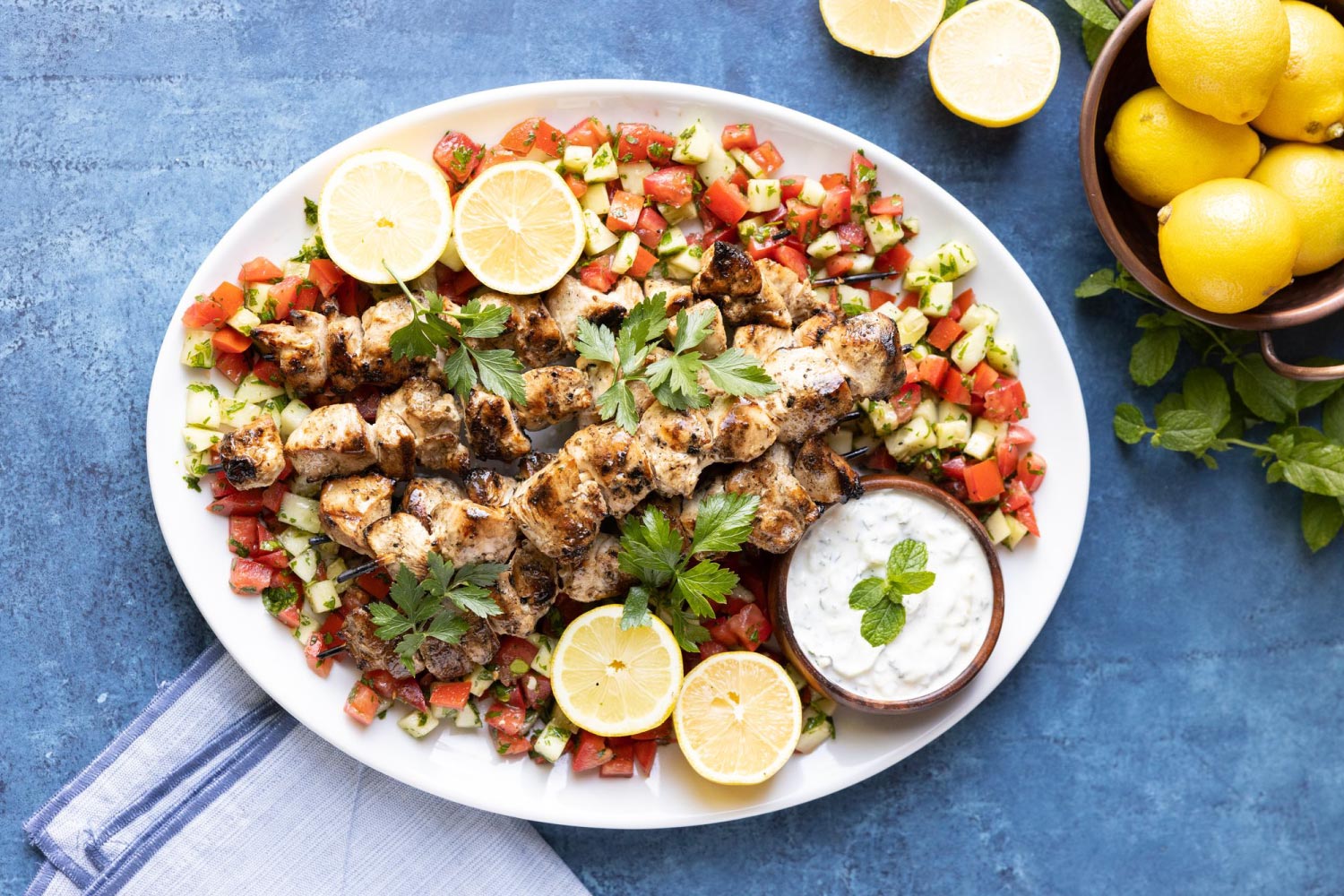 Preparation
Whisk together lemon juice, oil, garlic, and oregano in a large bowl. Season generously with Kosher salt. Add chicken and stir to coat.  Allow to marinate for approximately 6 hours in the refrigerator.
Skewer chicken and preheat the grill over medium-high heat. Grill chicken on both sides until browned and just cooked through.  Serve with tzatziki and tomato-cucumber salad

For the Tzatziki

Using the smaller side of a box grater, grate cucumber. Squeeze out excess cucumber moisture with paper towels.  In a small mixing bowl, combine Greek yogurt, cucumber, lemon juice, garlic, mint, and dried oregano.  Season with Kosher salt.

For the Tomato-Cucumber Salad

Combine all ingredients in a small mixing bowl and season with Kosher salt.