Crispy Buffalo Chicken Sandwich
Prep + Cook Time

155

Minutes

Servings

4
Where to Buy
Ingredients
4 Georges Farmers Market® Boneless Skinless Breasts (pounded out for even cooking)
1 Cup Buttermilk
2 Lg. Egg
1 1/2 Tbsp. Franks RedHot® Dry Seasoning
1 Tbsp. Tabasco® Sauce1
Cup A/P Flour + 1 Tbsp. Baking Powder
4 Ea. Sandwich Buns
4 Ea. Large Leaf Lettuce
16 Ea. Pickle Slices
1 Ea. Sandwich Tomato Sliced
2 Tbsp. Bleu Cheese Dressing
Oil for Frying
Buffalo Sauce:
1 Cup Frank's RedHot® Sauce
1/4 Cup Butter
1/4 Cup Honey
1 Tbsp. Lemon Juice
1/2 tsp. Cayenne Pepper
Blend all sauce ingredients & bring to a boil.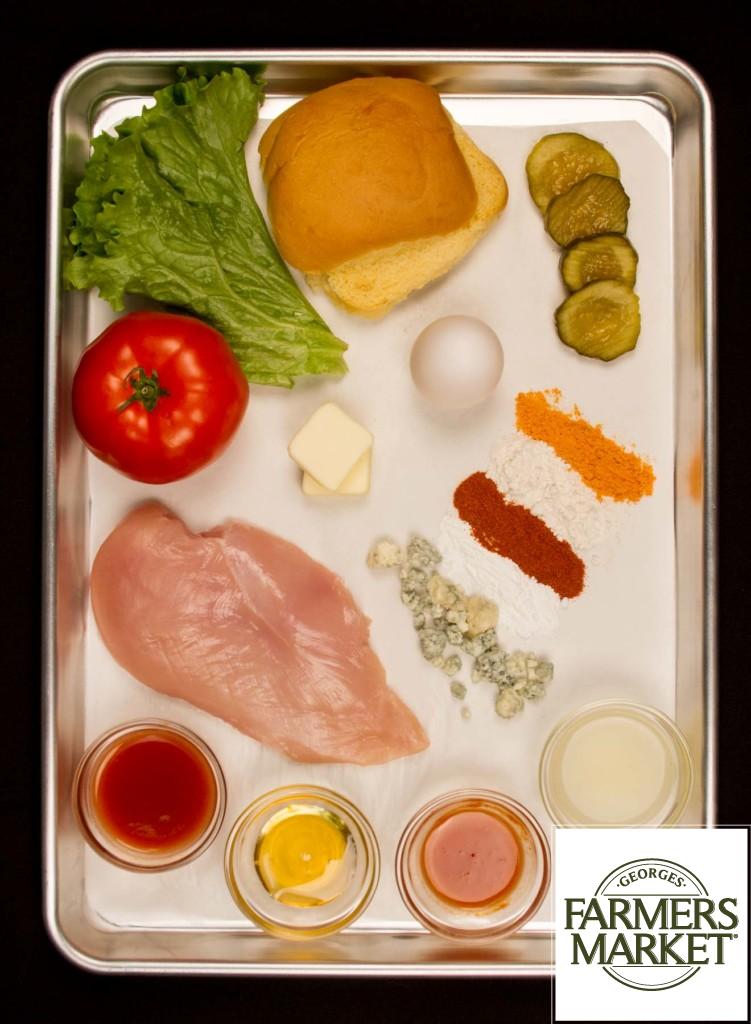 Preparation
Put the chicken breasts in a resealable bag and pound them until they are 1/4 in. thick. In a bowl, whisk together the buttermilk, egg, 1 1/4 tsp. seasoning salt, and Tabasco®. Place the chicken breasts in the bowl and flip them to coat. Cover and refrigerate for at least 2 hours.
In another bag, mix the flour, baking powder and 1 Tbsp. of seasoning salt. Once the chicken is finished marinating, add it to the bag with the flour mixture. Shake to coat and allow to sit for 15 minutes.
Heat 1/2 inch of oil in a skillet over medium heat. Once the oil starts to shimmer, sprinkle some flour into it. If it sizzles, it's ready. Fry the chicken until golden brown and cooked through, about 3 to 4 minutes on each side. Transfer to a paper towel-lined plate and set aside.
Toss the cooked chicken in Buffalo Sauce until coated completely
Toast the rolls and spread Bleu cheese dressing on them. Place the chicken on the roll and drizzle with extra Buffalo Sauce if desired. Top with tomato, lettuce and pickle slices.