Chicken & White Bean Chili
Prep + Cook Time

2

Hours

Servings

4-6
Where to Buy
Ingredients
1 Georges Farmers Market Whole Chicken
1 tablespoon garlic & herb dry seasoning
1 garlic bulb
1 yellow onion, sliced
32 oz chicken broth
1 (15.5 oz) can cannellini beans, drained and rinsed
¼ cup heavy whipping cream
1 (1.25oz) white chili dry seasoning
1 tablespoon corn starch
¼ cup sliced green onions
¼ cup sour cream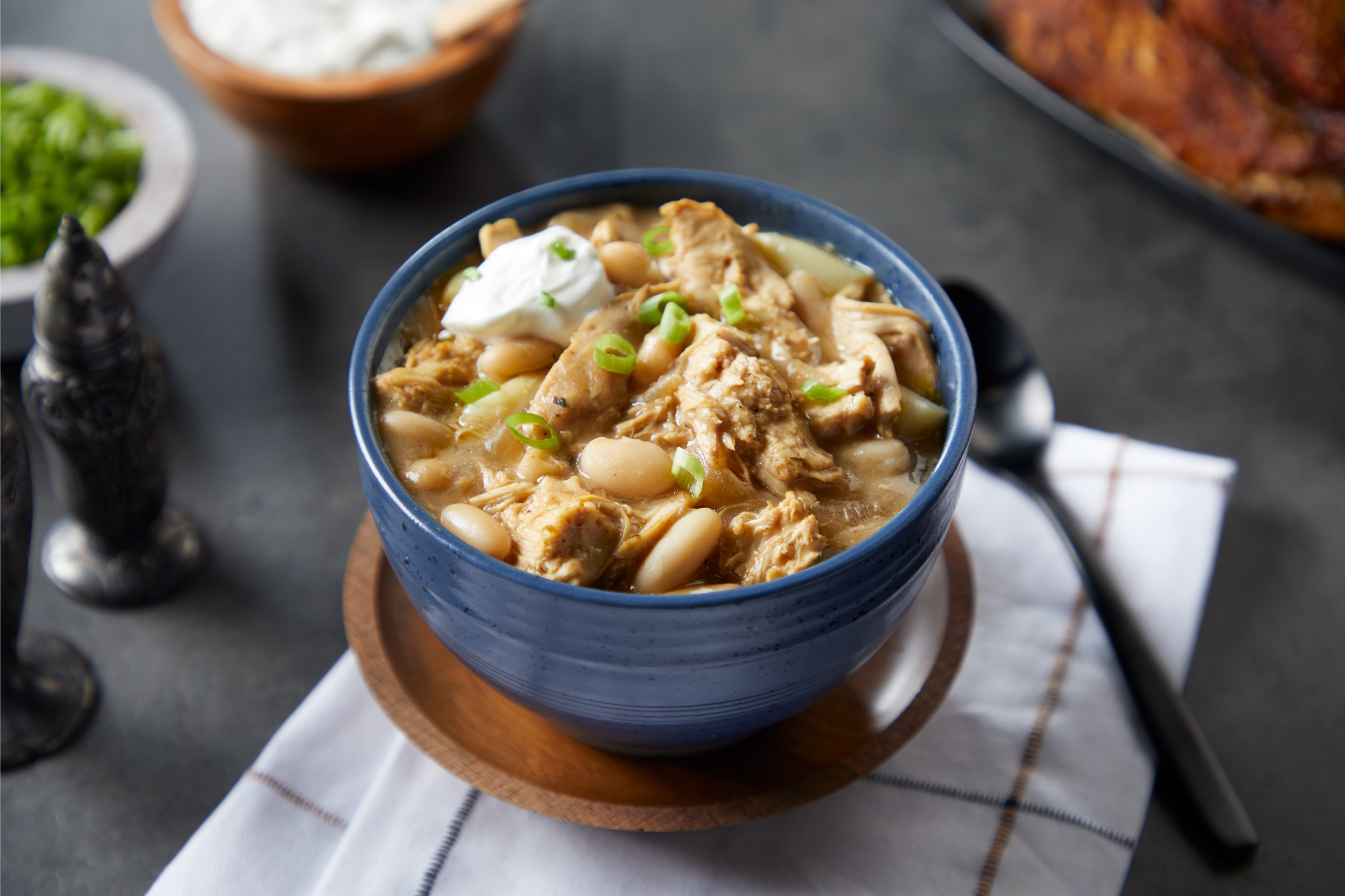 Preparation
Preheat oven at 425º
Spray a baking dish with vegetable spray and place the chicken in the baking dish. Coat the chicken with the vegetable spray and rub the dry garlic seasoning over the skin of the chicken. Cook in the oven for 45 minutes. Lower the temperature down to 350ºF and continue cooking for another 45 minutes.
Slice the garlic bulb in half, horizontally. Place the bottom of the garlic bulb in foil and dress with oil. Replace the top of the garlic bulb and wrap the whole bulb with foil. Cook in the oven above the chicken for 30 minutes.
While the chicken and garlic are cooking, heat a sauce pot over medium heat. Coat well with vegetable spray and cook the sliced onion for 15-20 minutes. Browning will occur. Add 1/3 cup of water and scrape the bottom of the pot. You may need to repeat this 2-3 times, until the onions are tender. Squeeze the roasted garlic into the pot with the onions. Pour in the chicken broth.
Shred half of the chicken with the skin on and add into the pot along with the beans.
Stir the cream with the seasoning and starch until well combined. Pour mixture into the pot, and bring to a boil. Stir continuously until thickening begins.
Serve with green onions and sour cream.

Chef's Tip: Any part of the chicken can be shredded for this chili depending on personal preference. Add all the meat from the chicken for a larger family-size meal or party.