Chicken Bacon Ranch Crescent Ring
Prep + Cook Time

45

Minutes

Servings
Where to Buy
Ingredients
2 cups shredded cooked chicken breast
8 ounce cream cheese, softened
1/2 cup ranch dressing, divided
1 tablespoon dry ranch dressing/seasoning mix
1 cup shredded cheddar
8 slices bacon, chopped
1 bunch scallions, chopped
2 (8 ounce) cans crescent rolls
Parsley, for garnish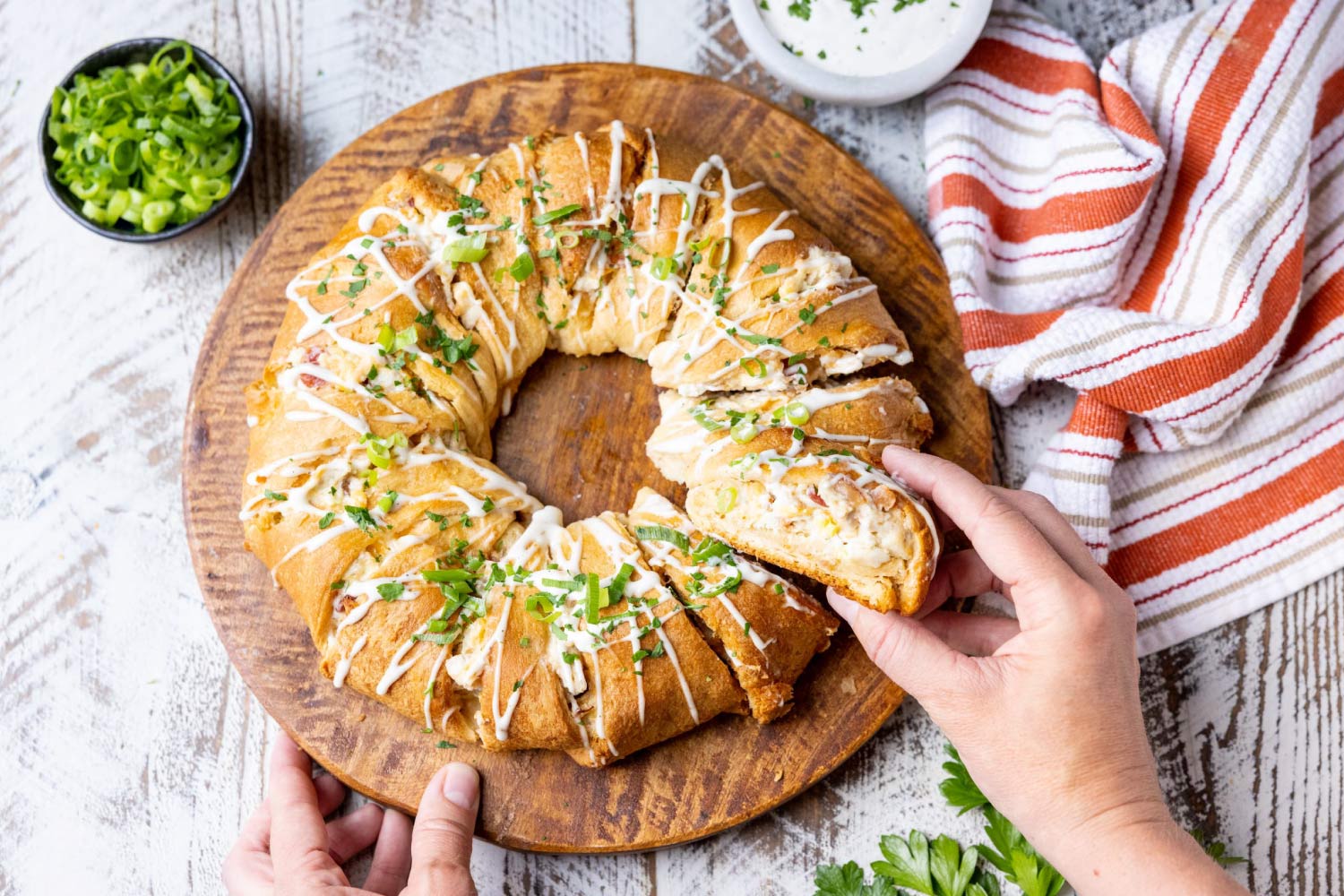 Preparation
Preheat the oven to 375°F.  Line a large baking sheet with parchment paper.
Meanwhile, stir together shredded chicken, cream cheese, ¼ cup ranch dressing, ranch seasoning mix, shredded cheddar, bacon, and 1/3 cup scallions in a medium mixing bowl.
Unroll crescent rolls and following the perforations, separate into triangles.  Place a 5-6" bowl upside down in the center of the baking sheet.  Arrange the wide side of each crescent roll triangle around the bowl, creating a ring that looks like the sun, allowing the dough closest to the bowl to overlap.
Spoon chicken mixture in a small mound around the inside part of the ring, closest to the bowl.  Bring each dough triangle over the filling and tuck and/or press it into the bottom layer of dough to secure.  Bake for 20-25 minutes or until the dough is deep golden brown and thoroughly baked.  Cool for 5 minutes, then top with remaining scallions, sprinkle with chopped parsley, and drizzle with remaining ¼ cup ranch dressing.