Apple & Barbecue Chicken Wrap
Prep + Cook Time

40

Minutes

Servings

4
Where to Buy
Ingredients
4 George's Farmers Market Applewood Marinated Chicken Breasts
1 red apple, diced
¼ cup sliced shallots
¼ cup barbecue sauce
4 large flour tortilla
2 bulbs garlic
¼ cup mayonnaise
2 cups shredded smoked Gouda cheese
2 cups shredded lettuce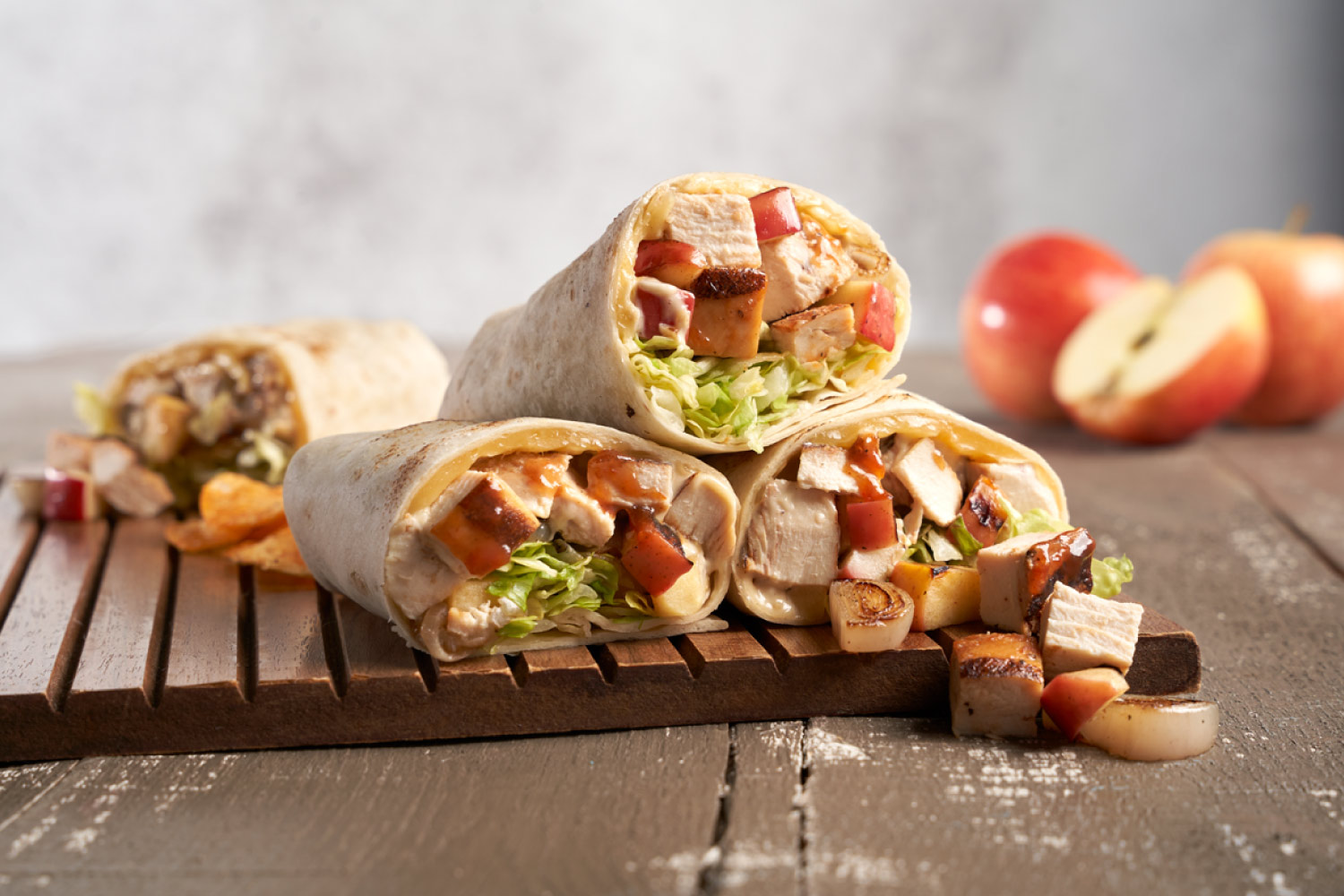 Preparation
Preheat outdoor grill over low heat and place a well-oiled cast iron griddle on one side of the grill.
Prepare ingredients for the grill: Combine diced apple and shallots in a bowl, and have the Applewood chicken breasts, tortillas, and barbecue sauce ready for use. Slice off the tops of the garlic bulbs and place in a square of foil. Drizzle garlic bulbs with olive oil and wrap up tight.
Place garlic pouches on the grill and roast for 30 minutes until tender.
Meanwhile, grill the chicken for 15-20 minutes or until internal temperature reaches 165°F. Baste with barbecue sauce while cooking on the grill. After removing the chicken from the grill, slice the chicken into large, diced pieces.
Cook the apple and shallots on the griddle surface until caramelized and tender, about 2-3 minutes.
Toast the tortillas on the grill for a couple of seconds per side.
Squeeze the garlic cloves from the bulb into a mixing bowl and combine with mayonnaise.
Build the wraps in the tortillas by dividing the cheese, chicken, apple mixture, garlic mayonnaise and lettuce in the middle of each tortilla. Fold in the tortilla sides over the mixture and roll the bottom part over the center and roll closed.