Air-Fry Italian Chicken & Vegetables
Prep + Cook Time

50

Minutes

Servings

4
Where to Buy
Ingredients
2-3lbs. George's Farmers Market chicken thighs
Seasoning
½ teaspoon garlic powder
¼ teaspoon onion powder
¼ teaspoon black pepper
1 teaspoon salt
¼ teaspoon ground nutmeg
Vegetables
1 cup diced eggplant
1 cup sliced mushrooms
1 cup diced yellow squash
1 cup diced zucchini
¼ cup vegetable oil
To taste salt and pepper
2 tablespoons Alfredo sauce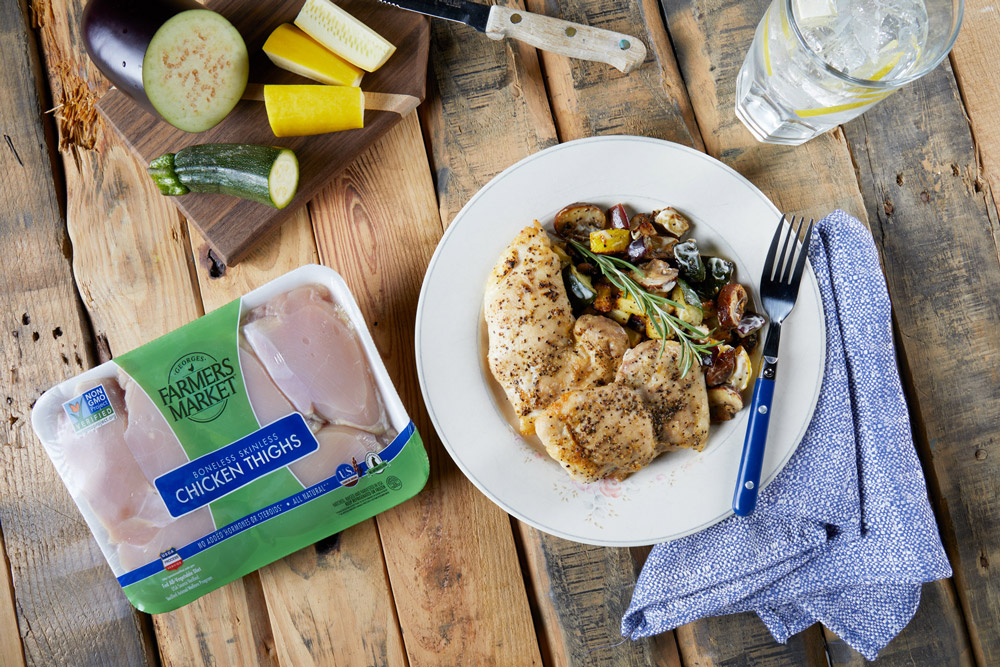 Preparation
Preheat air-fryer at 350ºF
Season chicken with dry seasonings and place in an even layer on the bottom of the basket. Cook for 5 minutes.
Toss the eggplant and mushrooms together in the half the oil and season with salt and pepper. Scatter the vegetables on top of the chicken. Cook for 5 minutes. Repeat with squash and zucchini.
Shake the air-fryer basket and finish cooking for an additional 5 minutes. Cook chicken to an internal temperature of 165ºF
Carefully remove the food from the basket. Stir sauce into vegetables and serve with chicken.